Lessees Contract Operations As International Traffic Remains Weak
The massive layoffs by American and United Airlines underscores the unprecedented difficulties of the airlines and the need for fleet contractions, particularly with respect to international operations.
The issue for the airlines is that the Covid Event has been affecting operations for nearly six months with little revenue being generated. While revenue may be limited indirect expenses associated with operating an airline remain essentially in place with administration, finance, lease costs, maintenance, salaries need to be paid to a greater or lesser extent. Moreover, there has been additional expenditure associated with the repayment of pre-paid fares although many airlines have sought to allow revisions to tickets. The airlines traditionally make most of their money during the peak summer season. The drain on resources and lost revenue amounts to hundreds of billions of dollars. Some airlines have renegotiated lease payments and deferred lease payments for a number of months with the lessors expecting repayment in the next twelve months and also an extension to the lease. At the start of the Covid Event, when the full extent of the downturn was not fully appreciated, some aircraft were repossessed. Despite the all too apparent severity of the market in April, there has perhaps been a lag by some lessors in appreciating the desperate plight of some lessees. The strict contacts of many leases still sees the lessors able to recover any losses from the non-payment of lease rentals by other means including forcing the lessee into bankruptcy as a way of selling other assets. Lessors have increasingly come to realize the necessity of compromise given the difficulty in disposing of the assets should the aircraft be returned.
Given the substantive reduction in values and lease rentals and in view of the size of the accumulated maintenance reserves, there may be a temptation to terminate the lease contract, seek reparations from the lessee and accept the maintenance reserve funds which may be greater than the value. The aircraft may thereafter essentially placed into long term storage or parted out where tax relief may be available. For those lease deals that focus on an End of Lease compensation, which sees the lessee paying a lump sum to reflect full life maintenance status, may not be so forthcoming. An End of Lease compensation payment for a widebody can easily exceed $20 million if the engines are needing an overhaul. For many airlines, such cash is not available although the EOL method has been traditionally applied to the larger operators.
Any premature return – forced or voluntary – of the aircraft may see a need for substantial maintenance, refurbishment and onward placement at a much lower rental, at least for the early part of a new lease. The "phoney war" of hoping that the market would quickly return to normality has now come to an end as the inevitable consequences of the Covid Event have become all too apparent. After a flurry of requests for assistance from lessees, previously met with some considerable resistance, lessors are finding that they now need to be more conciliatory and realistic with power by the hour much more in vogue. Governments are all too aware that the provision of further taxpayer aid, which in part, may be used to pay rentals to non-domestic leasing companies, may not be so palatable at a time when employees are being made redundant and airlines are all but collapsing. Both lessors and lessees are now joined in their pursuit of preventing the repossession of aircraft and the potential for bankruptcy given that neither option favors the lessor – now or in terms of future relationships.
For widebodies, the last decade has also seen a rapid increase in sale and leasebacks such that many aircraft are now owned by financial institutions. Such financial institutions are used to managing finances rather than aircraft. Just as post the First Gulf War and 2001, such financial institutions will be reluctant to seek to repossess aircraft or accept their early return because of the perceived and real difficulty in administering such a project and in securing a new operator. This is leading to greater flexibility in terms of lease payments although lenders will be conscious that they will have paid a premium for the aircraft in return for higher rentals which are now not forthcoming, at least in the short term.
The airlines have increasingly sought government assistance which has been forthcoming for some but not for others. As many operators of widebodies are major carriers, including "flag carriers", government assistance has been forthcoming. The assistance has been in the form of loans, grants, or employee support. There has been a requirement on the part of some airlines to seek support from existing non-governmental shareholders or from other investors before government aid has been provided. Government support is however, finite and with limited funding. With the Covid Event having a longer lasting effect on international airlines than predictions based on previous downturns, the airlines are exhausting sources of revenue while expenses remain stubbornly. This has therefore prompted the layoff of many airline employees. The inability to operate the widebodies, combined with low load factors, the need to incentivize fares, and the loss of business travel now makes it necessary for another round of cuts in expenses to be initiated with the lease rentals among the principal targets. Inevitably, this has already led to lower rentals and there will be even greater pressure on lessors to reduce or suspend lease payments for much longer than previously expected. The recovery in lease rentals may therefore be delayed if the supply continues to exceed demand beyond 2021.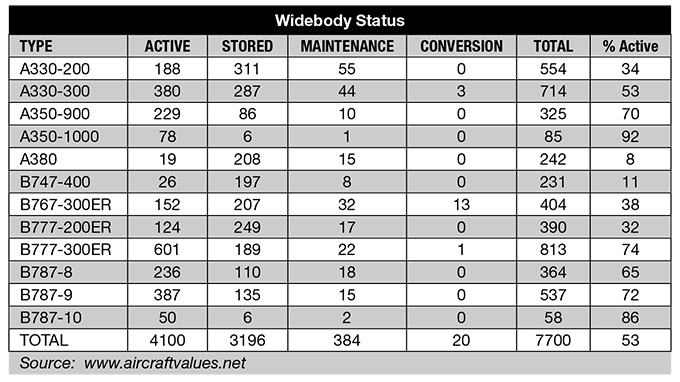 On the 4th October 2019 there were 113,155 commercial flights; a year later there were 61,142. Only some 54 percent of flights had been restored. The majority of the restored flights are being performed by narrowbodies on domestic or intra-regional sectors. The Chinese airlines have sought to redeploy some of the widebodies used on long haul routes on domestic and intra-regional routes. A significant number of passenger widebodies have also been used as freighters with Asiana partially converting a A350-900 as a main deck freighter.
The longer haul sectors continue to face disproportionate reductions in services with nearly as many widebodies not in active service than are actually flying. In early October, there were some 4,100 widebodies in active service. However, of these only 2,625 were used in a passenger role while another 1,200 were freighters. In terms of storage levels, there were still 2,736 aircraft in storage but this includes a number that were already in storage before the Covid Event – the A300-600R and A340-300 for example. Preighters are in widespread use with over 2,000 passenger aircraft having been used as freighters at one time or another since the start of the Covid Event. The number in storage does not in any way relate to the number being actively marketed but some owners and operators of such aircraft would wish to place these aircraft with other operators if they could. The gap between supply and demand is that much greater for widebodies given the difficult of restoring international services during the off-peak season.
The level of utilization of those in service will also be less than pre-Covid levels. The oversupply of widebodies is therefore all too apparent. The operating lessors have traditionally been more reluctant to participate in the widebody market due to the lesser liquidity and greater difficulty in placing aircraft after the first lease. The cost of transitioning a widebody is that much higher with an A330 perhaps costing $5 million for a relatively modest change to $50 million for an A380. The downtime required for the reconfiguration is also substantive. Nonetheless, nearly 40 percent of the widebody fleet are leased which compares with the narrowbody average of 50 percent. The overall proportion of leased aircraft is approximately 43 percent. With 40 percent of widebody aircraft on one type of lease or another, this creates considerable competition among lessors should there be a need to secure a lessee for an aircraft in the current market.
At the start of the Covid Event, there was a significant fall in the lease rentals of all widebodies although there was variation between the older and newer ranging between 25 percent to over 50 percent. The lease rentals of a A350-900 built in 2016 fell from over $900,000 per month to just over $650,000; those of a 2003 B777-200ER fell from nearly $300,000 per month to only $170,000 per month. There was an expectation in view of the issues of the international market that the lease rentals would remain at or near these levels for some twelve months before the more modern aircraft would see an improvement. For 2022 the lease rentals were seen as improving by some ten percent compared to April 2020. Yet in view of the failure of the market to replicate the limited domestic and regional market recovery and the potential for further fleet contractions, the recovery in lease rentals of widebodies be of a lesser magnitude because of the sustained imbalance between supply and demand.
You must be logged in as a subscriber to Aircraft Value News to view this page. Please log in below.